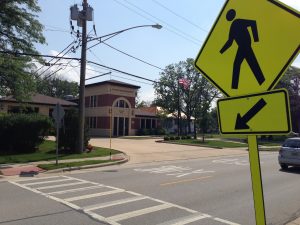 Recently, a pedestrian was struck and killed in a tragic Chicago pedestrian accident on a road near the Chicago O'Hare International Airport. According to a local news report, the 70-year-old Hanover Park man was pronounced dead after being transported to Advocate Lutheran General Hospital shortly after the crash.
Witnesses noted in the report told authorities that the accident victim was in a roadway near the international terminal at O'Hare when he was hit by a city-owned tow truck. According to the report, the accident did not occur at or near a crosswalk.
Pedestrians should always use crosswalks when crossing roadways, if they are available. Of course, drivers still have a duty of care to avoid hitting pedestrians in the roadway, even when the pedestrian is not crossing at a designated crosswalk.
Under Illinois law, pedestrians are permitted to cross roadways without a crosswalk. However, pedestrians crossing without a crosswalk are required to yield the right of way to vehicles in the roadway.
This requirement notwithstanding, Illinois code section 625 ILCS 5/11-1003 states that drivers must exercise due care to avoid colliding with any pedestrian or bicycle rider, and they must sound the horn when necessary. Furthermore, motorists must exercise extra precautions if they observe any child or any person who appears to be confused, incapacitated, or intoxicated in the roadway.
Who is Liable After a Pedestrian Accident?
Financial liability for damages related to an auto-pedestrian accident may rest on the driver of the vehicle involved. If a pedestrian is struck at a crosswalk, the driver may face both civil and criminal liability.
However, liability for accidents that occur away from a crosswalk may be more complicated. It is possible for a driver to be found negligent and civilly accountable for damages related to an injury or death from an auto-pedestrian accident that happened outside a designated crosswalk. A driver who is not following traffic laws, is under the influence of drugs or alcohol, or is otherwise found to have failed to exercise due care to avoid a collision could face civil liability after an accident.
In the event of an auto-pedestrian accident, the driver's liability insurance will often be the primary source of compensation for the victim of the crash. However, insurance companies often offer inadequate and unfair settlements to accident victims after a crash. Illinois accident victims who retain a skilled personal injury attorney are more likely to receive a fair settlement offer to compensate them for the injuries that they sustained in the crash.
Have You Been Injured in a Pedestrian Accident?
If you or a loved one has been injured in an Illinois pedestrian accident, you may be entitled to significant compensation from the driver of the vehicle or their insurance company. If you've already started negotiations with an insurance company for a settlement, you may be surprised at the difference that having a qualified Illinois accident attorney at your side can make.
The lawyers at Abels & Annes, P.C. have the knowledge and experience to help you obtain the compensation that you deserve. To learn more, and to speak with an attorney about your case, contact us today by calling 312-924-7575 or contacting us online to schedule a free consultation.